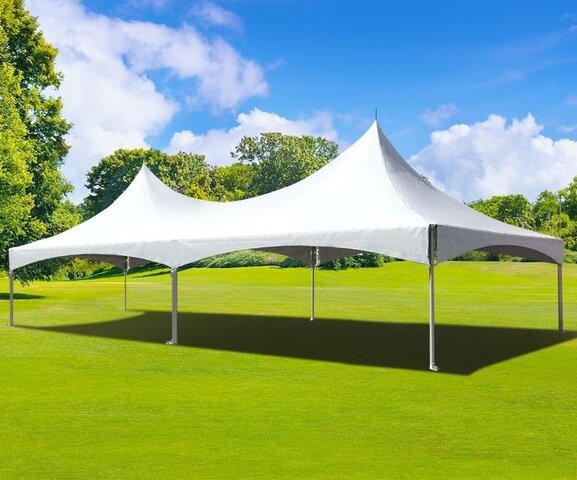 40x40 Tent Package - 16 Tables & 160 Chairs
DELIVERY ONLY!
1 Day - Tent Rental is set up either Friday afternoon or Saturday by 2pm (based on our delivery schedule).
We will try to accommodate a specific time period, but that is not guaranteed.
If you need the tent set up prior, an additional day needs to be reserved.
Same-day pickup needs to be before 8 pm; if between 8:15 pm-10pm, an additional fee of $50 will be charged.
Our 40x40 High Peak Frame Tent come in white and provide an elegant look that makes them ideal for any type of outdoor events; such as weddings, graduations, family reunions, birthday parties, business events, trade shows and similar events. These stylish, sleek High Peak Frame Tent can be set up on grass, set up in a parking lot (additional fee) or on other asphalt surfaces (additional fee).
40x40 Tent Package Includes:
40x40 White High Peak Frame Tent - Rental

160 Black Folding Chairs

20 Tables (6ft Rectangle Tables)
See other option layouts per your needs:
*PLEASE NOTE*
If Tent is setup on a "CONCRETE or OTHER ASPHALT SURFACES" there will be an additional $350 and access to a water hose will need required.
During checkout, a question is asked what "SETUP SURFACE"; if you are setting up on "CONCRETE or OTHER ASPHALT SURFACES" this MUST be SELECTED.
If grass is selected and you decided to setup on concrete when we arrive; there will be ADDITIONAL FEES and setup will be DELAYED.