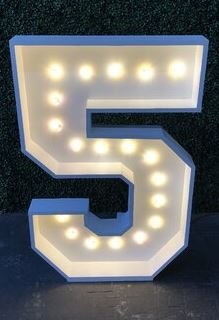 "5" 4ft LED Number Marquee
The rental time is 6 hours. Delivery only. Pickup between 10 pm-12 midnight is an additional $25.
The latest craze to arrive in the party scene are these lovely 4ft tall illuminated LED numbers. We deliver and set up your numbers before your guests arrive and then return afterward to take them away.
It doesn't matter what the age, from 1 to 100 we have an illuminated number just for you.
These numbers stand 4ft tall, 3ft wide, and are perfectly safe using low-wattage LED bulbs, this means they don't give off any heat.
Our light-up signs can be used indoors or in a marquee; they only need a flat surface to stand on and access a power supply.