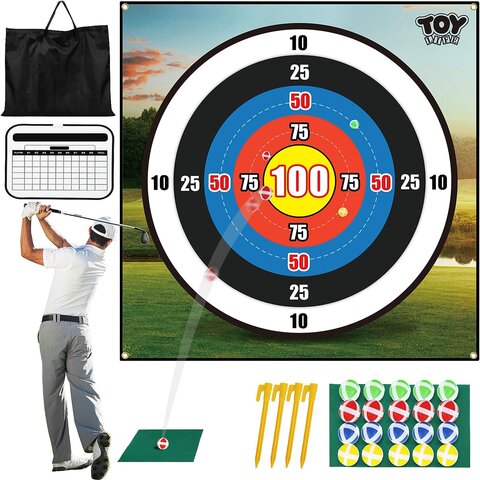 Golf Darts Game
⛳
Elevate your chipping experience with a thrilling fusion of precision darts and the joy of golf. Score big with our Stick chip golf balls that adhere to the oversized fabric target.
⛳ Impressively Large Bullseye: Stand out among your friends with an enormous 6.5 ft x 6.5 ft dartboard target. Crafted from premium materials and adorned with vibrant graphics, it's a visual masterpiece that commands attention.
⛳ Play Anywhere, Anytime: Our chip stick golf mat can be easily mounted in numerous locations. Hang it on a wall, tree, fence, garage beam, or even attach it to an existing golf hitting net. Experience the excitement indoors or outdoors game, wherever you choose to play.
Golf Darts Game comes with a golf dart mat, 20 sticky golf balls, scoreboard, a golf hitting mat, 6 gound stakes, 4 ropes, a storage bag and 2 Golf clubs.
If any items are missing or damage, the rentor will be responsible for replacement costs of rental.
Store Pickup or Delivery (for an additional fee)